Better than Bowling
December 28 @ 8:00 pm

-

December 29 @ 12:00 am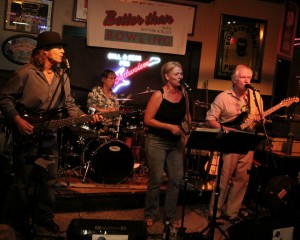 A healthy sense of humor can lift a rock'n'roll band to unanticipated heights.
Take Devo, for instance, or Alice Cooper or even Kiss.
Locally such acts as the Stompin' Suede Greasers, Electric Chick Magnets, the Disco Biscuits and especially the Buttafuocos all thrived on satire as well as song.
Now we have Better Than Bowling.
But it's not the repertoire that makes Better Than Bowling better than other classic rock acts. It's the personalities.
Singer Sharon Allen has a cheery disposition and a chimera's vocal cords. Drummer Dave Clement repairs computers by day and renders rhythms by night. Guitarist Paul Power punctuates his picking with harmonica blasts, and bassist Tom Navagh regularly launches into surreal commentaries that even his band mates can't quite grasp.
They play everything from "Badge" to "Black magic Woman," and also throw in a few originals like "Furry Murray."
The band's motto is "It's our job to make life fun…for a couple of hours, anyway."
Facebook